Description: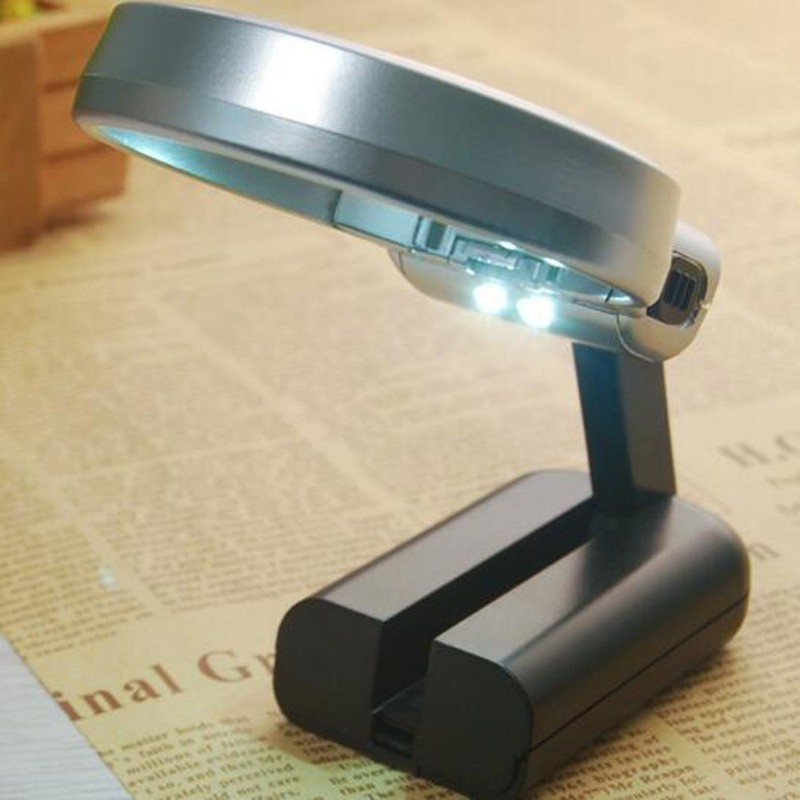 Folding Magnifying Glass with LED Light And Adjustable Folding Stand
    
Product Features
    High Clarity: wonderful for reading small print on labels, instructions or ingredient lists on products, maps, newspapers. The high quality, polished acrylic lens magnifies 3x with no distortion. Helps save eyesight and reduces headaches caused by eye strain or squinting.
    Great Use: useful for examining fine prints in newspapers, documents, maps, coins, stamps, electronic parts, jewelry, photos, and pill bottles. Crystal clear 3″ dual lens suitable for seniors, hobbyists and professionals.
    Folding Design: easily transforms from a hand held magnifier to a desktop magnifying light stand, enables hands free magnification for close-up work, e.g. beading, threading a needle, circuit boards, tying fishing flies or even removing a splinter. The compact size can make you take it wherever you go, either in your pocket, purse or back pack.
    Two Bright LED Lights: With 2 bright LED Lights illuminates the magnified images or text to give you a clearer view, makes it suitable to use for reading at night. Really helpful visual impairment aid for those who has macular degeneration or low vision.
    Requires – 2 x AA Batteries (not supplied), easy to insert or replace, operated by a simple on/off switch at the side. The low power consumption ensures long-lasting battery life and it's easy to replace.
 
Product Description
Item size: 16.5 X 7.8 X 2cm
Item weight: 73g
Shipping weight: 91g
Colour: silver and black
The magnifying glass is a good size with the glass itself measuring roughly 3 inches across and the unit can be used either handheld or be made into a stand alone by just pushing the middle out.
It also has 2 little LED lights attached so you can see what you are doing in any conditions, it would be perfect for anyone who struggles to read and with it having the lights attached it means it can be used on a night for a bit of bedtime reading.
This multi-functional magnifier is the perfect size to carry around with you, but still big enough to do the job. It's also light to hold when reading for long periods.
Every household should have at least one of these magnifiers, either on the desk or on the tool shelf!
Item Specifics
Material :    ABS and optical glass lens
Big lens :    2.5X
Type :    Reading Magnifying Glass Lens
OUR PROMISE:
 ? FREE WORLDWIDE SHIPPING
– We offer FREE world wide shipping for all orders
? 100% Secure Payments
– Secured by the same security as big banks and other financial institutions.
✔️ 100% Money Back GUARANTEE
– If the product arrive damaged or not as described, send us an email and we'll refund every penny
? 24/7 Customers Support
– Got questions? our support staffs are here to answer any queries before and after placing your orders.