4-in-1 Anti-Theft Bike Alarm Lock
---
The Reason?? – Scary.. but Simple!! No effective theft-proof method that can keep your bike safe!!
…up until now!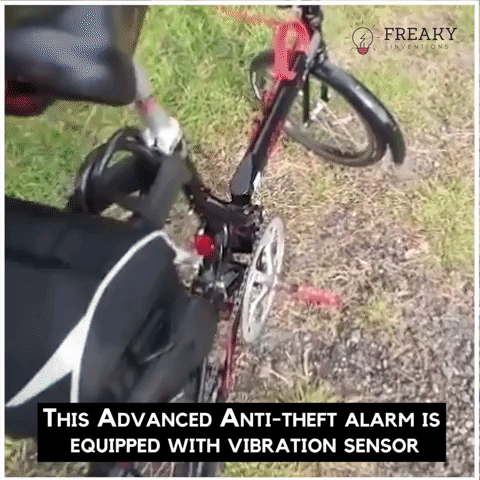 This Anti-Theft Smart Alarm & Tail Light will prevent your precious bike from any theft attempt.
DEMONSTRATION
It is 100X better with Wireless Remote.It basically works like a car alarm!
If the thief touches your bike, a piercing 120 dB loud alarm goes off which is enough to startle the thief and protect your bike. 
You just park your bike, lock it with your existing lock and activate this alarm with the remote control that comes with it.
If someone touches your bike, the alarm goes off for 3 seconds (to account for people who have bikes on the racks next to your bike and touch it by mistake).
The second time they touch it, the alarm goes for 12 seconds. After that, it goes for a full 30 seconds!
After you come back, you just unlock it with your remote control, and voila!
Oh did we mention that this alarm is also a smart tail light and can work as an electric bell? 
So you'll get 4 functions in 1 device!
1. Smart Alarm:
Protects your bike from any theft attempt.
Issues a loud 120 dB sound to scare off thieves.
2. Tail Light:
Keeps you visible at night.
120 Lumens, 218 yards (200 meters) visible.
COB high light source.
Wide range floodlight (160°).
3 different modes (continuous, flashing slowly and flashing rapidly).
3. Alarm:
Announces your presence to people and cars with 120 dB.
Helps you find your bike quickly.
4. This device comes with remote control:
To enable/disable the alarm.
To turn on/off the tail light.
To ring the electric bell.
Easily mountable on your handlebar so you can have access to all features in front of you!
THE TWO KITS:
DEVICE FEATURES:
High quality build.
IPX5 waterproof!
Fully USB rechargeable (large capacity 800 mAh battery). You charge it for 2 hours and use it for up to 30 days!
Comes with a remote control that you can easily mount on your bicycle's handlebar.