Make your mornings brighter and livelier with our Home Essentials Mug. Enjoy your coffee more and face the day with confidence. 
Simply add hot water and prepare to be mesmerized once it displays the front design. It makes an adorable gift for yourself, family members, friends, colleagues, and many more.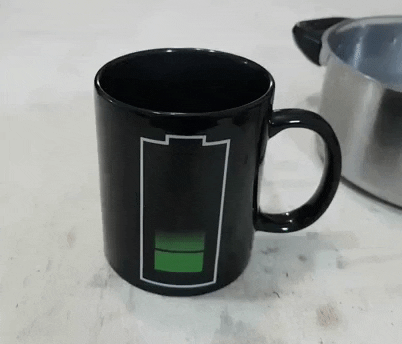 PRODUCT FEATURES: 
☕DURABLE 
Home Essentials Mug is made of durable ceramic, which provides a smooth looking and scratch-free feature. 
☕COOL DESIGN 
Home Essentials Mug features a cool and stunning design that will surely leave a smile on your face. Enjoy every sip more. 
☕LARGE CAPACITY
Home Essentials Mug can hold 11 oz. of coffee, hot tea, warm water, hot chocolate, and many more. Quench your thirst for coffee and make every gulp memorable. 
☕THERMOCHROMIC
Thanks to its color-changing feature, Home Essentials Mug can transform a bare looking mug to a cool one! Simply put hot water into the mug and be amazed. It needs above 70C/158F to achieve the color-changing effect. 
☕ PERFECT GIFT
Home Essentials Mug is the best gift you can give to a coffee lover, family member, friend, colleague, neighbor, and many more!