Having this gardening tool will definitely help you a lot when it comes to tree grafting and cutting.
With a strong and durable blade that is made out of high-quality materials such as carbon steel, this gardening tool will perform great in any occasion.
Professional Nursery Garden Grafting Pruner Tool Set will improve your working speed to cut quickly and accurately.  Perfect for fruit trees and other small branches.  The high-quality case includes extra blades.
Features:
Pruning Tool Type: 

Pruning Knives

Pruner Type: 

Anvil

Feature: 

Anti-Slip Grip

Material: 

Metal, Carbon Steel, Aluminum

Cut grafting stocks 5mm-1.4cm diameter

Trimming Blades: 3mm Thick
The ability to perform U-cut and Ω-cut surely will come helpful and useful in any given situation.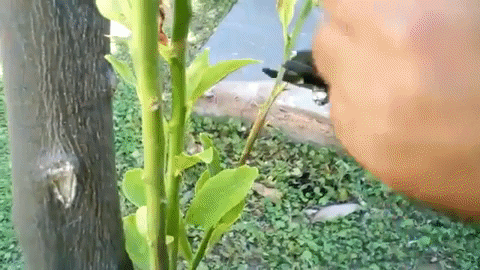 Heavy-duty spring can be used thousands of times.
Chromium-plated blades to prevent rusting.
Automatic unlocking/safety lock for easy and effortless pruning.
Specifications:
Materials:

Carbon steel, ABS and Aluminum
Size: 27cm * 10cm/10.5inch * 3.9inch
Trimming Blade: 3mm Thick
Package Includes:
One (1) Professional Nursery Garden Grafting Pruner Tool Set
One (1) Carrying Case
Two (2) Additional Blades
One (1) Philips Screwdriver